‌
Hello friend,
I spent a great weekend in San Diego for my girlfriend's birthday and had some of the best tacos of my life. It was my first vacation-resembling experience since Covid, which I guess is worth cherishing.
These are the 3 ideas I thought were worth sharing this week:
TikTok's fast growth is related to its focus on social capital
Long term VS short term is the most commonly cited false choice in marketing
TikTok is becoming the first homogenizing force for Gen Z's fragmented identity
‌
---
BRAIN FOOD
26 minute read
This article offers an in-depth overview of TikTok's origins, the nature of apps and the current landscape of social media.
How did TikTok get so big so fast? Two factors:
They spent a ton on advertising (some months over $100 million dollars)
They built a fully custom For You page for every user based on an algorithm
The algorithm is an exploit algorithm, as opposed to an explore algorithm.
Exploit algorithms give you more of the content you like (like YouTube)
Explore algorithms give you a broader set of content based on what you like
All social networks revolve around one of those three main purposes: social capital, entertainment and utility:
A network like Venmo or Uber, for example, is mostly about utility: I need to pay someone money, or I need to travel from here to there. A network like YouTube is more about entertainment. Amuse me. And some networks, what most people refer to when they use the generic term "social network," are more focused on social capital. Soho Club, for example.
TikTok is less a pure social network, the type focused on social capital, than an entertainment network. I don't socialize with people on TikTok, I barely know any of them. It consists of a network of people connected to each other, but they are connected for a distinct reason, for creators to reach viewers with their short videos
TL;DR of why TikTok succeeded: ‌
In a two-sided entertainment marketplace, they provide creators on one side with unmatched video creation tools coupled with potential super-scaled distribution, and viewers on the other side with an endless stream of entertainment that gets more personalized with time.
---
‌
8 minute read
This is a very interesting and well researched article. A common belief in marketing is that you can either focus on short term gains (performance) OR on long term ones (brand). This piece argues that it's a false choice.
There's always been a lot of magical thinking about the long term in advertising. That you can just do something big and expensive as a one-off, then close your eyes and cross your fingers and hope no one commercially-oriented asks any awkward questions for six to twelve months, until future sales start magically happening.
Long-term growth always has its roots in the short term. The two are connected, influence each other, and if you get the two working perfectly in harmony together, you'll achieve the strongest, most sustainable growth possible.
---
‌
5 minute read
I loved this awesome visual essay written like an iMessage conversation. As TikTok is becoming a homogenizing force for Gen-Z, will millennials be the next boomers?
Do zoomers just fundamentally not feel the need to impress people?
I think pre zoomer / full internet penetration, the internet was a place you chose to be. Kind of like a club or a restaurant. So it makes sense to dress up and try to impress. But the internet is actually everywhere and always, so why bother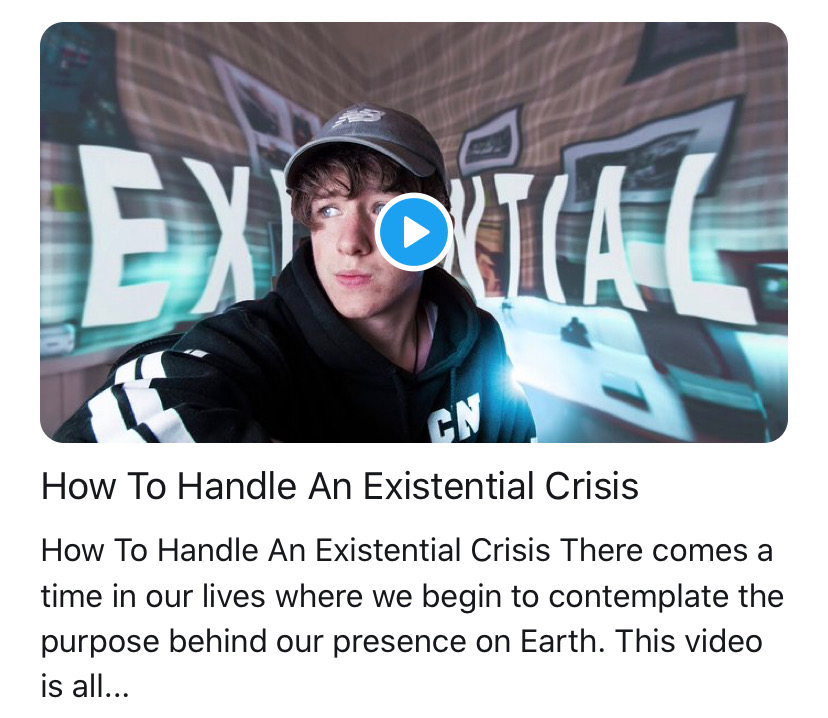 ---
‌
BOX OF RANDOM
🎬 This introspective trip shows the effects of Spain's lockdown on two immature adults (8-minute short film)
👟 Nike's split-screen You Can't Stop Us ad perfectly matches old and new footage (90-second video)
🎞 A journey through cinema history for the vertical screen, shot on iPhone 11 Pro (9-minute short film)
💾 A retro Windows 95 style website with music, Pong, and lots of nostalgia
💡 A growing collection of creative reference and digital entertainment
🎵 A mind-bending music video for Flatbush ZOMBiES "Afterlife", produced by James Blake
🌎 If we weren't the first industrial civilization on Earth, would we ever know? Answer: probably not (6-minute read)
🖌 The Pixel Art movement is becoming my favorite thing on the Internet. If you like it, check out kldpxl:
---
‌
Want to support this newsletter? You can buy me a beer (you'll get a picture of me making a toast to you 🍺) or share this with a friend or two - they can subscribe here.
And if you come across anything interesting this week, send it my way. If there's something I like more than beer, it's finding new things to read through members of this newsletter.‌
‌‌
‌Stay classy,
-Gian
🍺

Buy me a beer